For you with simply taste the way you are. Relax chosen the best for yourself and family. Design your own house to live. And spend the rest of your life happily in PHUKET, the paradise.
(Our Advertising)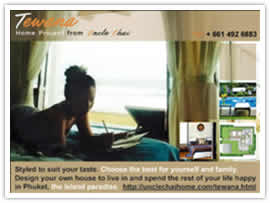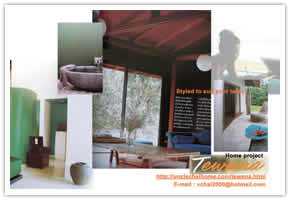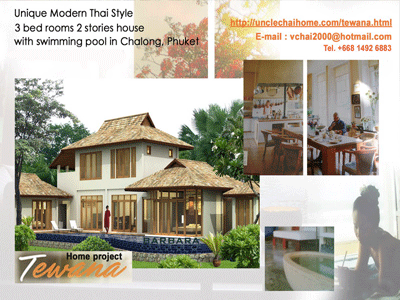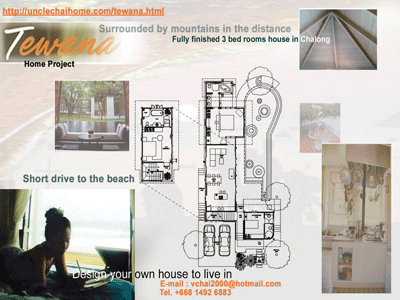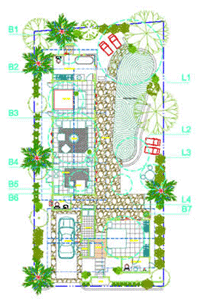 Welcome to the newly completed show house at Tewana Village.
But first let us introduce you to the Tewana Village concept. Instead of building 'cookie cutter' homes, our village theme is all about your house not being the same as next door.
It won't be repeated unless you find a plot somewhere else, or we make another village at a different location.
There are three different location for you to chosen. It's all about lots of greenery and having your own private space.
Prices at Tewana Village is about 9.5 million Baht start including land plot, for a unique style holiday home and up to the land size and location.
There are different house type for you to choose, to design your own house.We build house for customers, starting from variety house concept we have,
or customers may choose our finished house. We do only one style in each villege area which concern much about simply quality life living with nature in Phuket.
| | | | |
| --- | --- | --- | --- |
| | | | off plan |
| | | | |
First house is completed already.
Living & Kitchen
Master Bed Room
2nd Bed Room (2F)
Fully furnished show house. Unique Modern Thai Style.
Show House: Double -story brick with insulated steel frame cedar roof and large under- house storage and service area.
Pool: Shaped 42 sq metre salt water ceramic pool. Landscaped garden. External wall design at your request.
Water: Provided from a common well. Double parking. Secure gated common area.
Flooring: Wood inlay, terrazzo, ceramic. Kitchen: Island worktop, Franke equipment.
Technical: Phase 3 electric, central air con/hot water throughout, wi-fi, Telephone. Living area 240sq.m plus terrace.



Tewana Sapphire by unclechai;
He build one house to sell every year as his hobby. You are invited to visit the available show house. If you are happy with Tewana House style, funtionnal,natural finishing and over all.
Now, what are you waiting for..?..
Style to suit your taste....
Choose the Best for yourself and family.....
to Stay in Phuket, the Paradise.

.....Just finished . READY for SALE.......

At Tewana Residence soi Chowfa west 77, " Tewana Sapphire" house had built one storey villa under umbrella Tewana home style.


Unique Modern Thai Style : Contemporary natural touch styled villa with three bed rooms and landscaped garden with swimming pool.
In a planned development of only one house of each type, will not repeat, in each location.

Located in a quiet part of Chalong area, surrounded by mountains in the distance.
.........................................................
..................................................
Price : 14.5 million Baht
Description Off Plan;
You are invited to visit and show house. If you are happy with Tewana House style, funtionnal,natural finishing and over all… Or, you like to have? miner change.
Then, choose one from three location we have to put your house.

Budget Setting
Budget will be set and FINANCIAL discussion will be made right the way to suit your banking or pocket.
| | |
| --- | --- |
| | |
| | |
mm
mmmmmmm
cccccccccccccccccc
........Distinctive character house in the PARK named " Green park house" placed on 2,676 sq.m. consisting of three buildings, fully furnished,
natural Tropical spa living peace and tranquility.
The Residence of full function with 4 bedrooms, 4 baths, Jacuzzi, living room, dining area, separated maid room and swimming pool.
Location of Sai Yuan, Rawai, you make just 5 minutes drive from Nai Harn Beach, international community.
For SALE and long term RENT..